Huawei confirms P20 Pro's name with a billboard in Barcelona
5 Maret 2018
Huawei is due to announce its next flagship smartphone family at a special event in Paris on March 27. But while we've known that for a few weeks now, there has been some confusion regarding exactly what the models to be unveiled there will be called - the P20 and P20 Lite have leaked so much that they're pretty much a certainty, but what about the third device, the one rumored to come with three cameras on the rear?
So far we've worked under the assumption that this will be the P20 Plus, because that's the naming scheme the company has employed in previous years, but it turns out that it will be called P20 Pro instead. This has been revealed by Huawei itself through a billboard that was spotted in Barcelona. The city it's in is no coincidence, because MWC 2018 has been held there this week, with an announcement or two of note.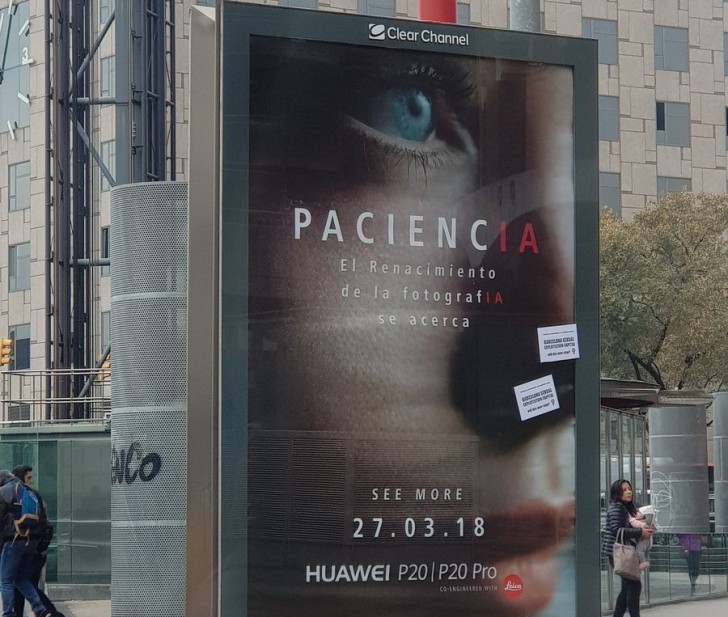 Huawei wants you to be patient, though, as it says "the rebirth of photography is approaching" - and all will be revealed on March 27. The company even highlights the letters "IA", which are the Spanish initials for AI. So if you've had enough of that particular buzzword already, get ready to hear even more of it towards the end of this month.
The P20 Pro may have already been showcased in a leaked press render not long ago, although at that time we thought it would be called P20 Plus. Its triple rear camera is expected to have a 12 MP color main sensor, a 16 MP black and white sensor, and a 16 MP telephoto lens. f/1.8 aperture will be boasted by at least one of those, and the same goes for OIS.
For selfies you'll have an 8 MP snapper with f/2.0 aperture, while RAM/storage options will go as high as 8/256GB. At the helm we should find the Kirin 970 chipset, which is inside the Mate 10 and Mate 10 Pro too. The P20 Pro's display may be a 6" 2,160x1,080 panel, and keeping the lights on will be a 4,000 mAh battery - at least if past leaks were accurate.
Controversially, but not unexpectedly, the P20 Pro will have a screen notch, though a much smaller one than the iPhone X which started this trend. The bottom bezel isn't completely gone, but it's small enough that the fingerprint sensor had to be moved to the back.